Graziers Steakhouse at The Greenwood
The Graziers Steakhouse at The Greenwood is multi award winning dining facility. It boasts an extensive and appetizing lunch and dinner menu, dessert menu and Tea/coffee facilities.
We can accommodate tables of 2 or can book up to 200 patrons. Patrons may sit inside or outside. Our food is fresh and exciting. We have very friendly and helpful staff.
Graziers Steakhouse Kitchen

Lunch
Mon - Thu
12pm - 3pm
Dinner
Mon - Thu
5pm - 9pm
Lunch & Dinner
Sat, Fri
12pm - 9:30pm
Lunch & Dinner
Sunday
12pm - 9pm
Meal Deals & Dining Specials
Monday to Friday from 12pm - 2pm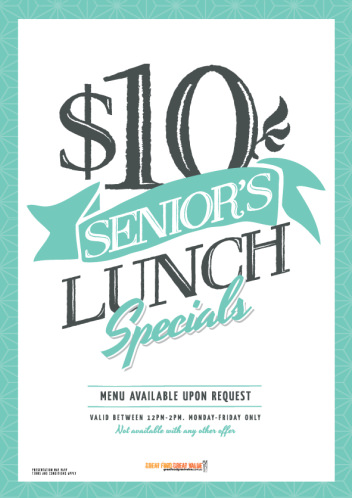 $10 Seniors Lunch Specials
Great Food at Great Value for Seniors.
A range of friendly local hotels and pubs are offering $10 Lunch Specials for senior citizens. During the months of April and May seniors can choose from a range of enticing lunch meals at a fraction of the price. It's Great Food at Great Value!
The menu includes some great favourites including Crumbed Calamari, Bangers'n'Mash, Chicken Schnitzel, Grilled Fish, Rump Steak, and the classic Club Sandwich.
Available for a limited time only. To redeem this valuable offer, customers will need to simply present their valid Seniors Card to venue staff. This special menu is valid between 12pm - 2pm Monday to Friday and cannot be used with any other offer. Terms and conditions apply.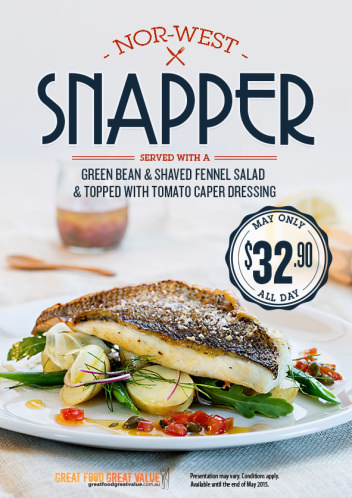 $32.90 Nor-West Snapper
During the month of May we'll be serving a sensational seafood special that you don't want to miss!
For only $32.90 you can enjoy freshly caught Nor-west Snapper served with a green bean and shaved fennel salad and topped with tomato caper dressing.
Conditions apply. Presentation may vary. Not available with any other offer. See staff for details.
Mon - Thurs 5.30pm - 7.30pm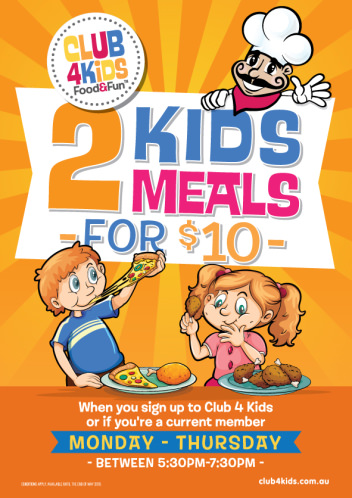 Two Kids Meals for $10
ATTENTION CLUB 4 KIDS MEMBERS
Select any two kids meals from our menu for only $10!
That's right! Ten bucks for two kids meals if you're a current Club 4 Kids Member. if you aren't a member, simply sign up right now using the link below to redeem this great deal.
But you've got to be quick. This promotion is available in May only.
Conditions apply. Available Monday to Thursday between 5.30pm - 7.30pm. Presentation may vary. Not available with any other offer. See staff for details.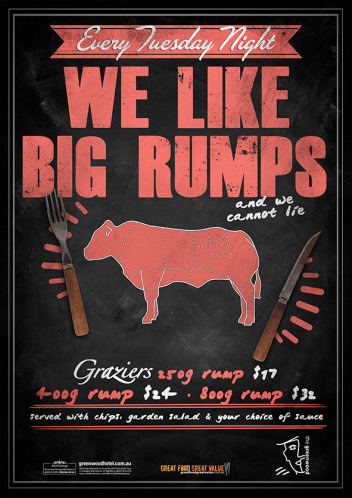 We Like Big Rumps!
We cannot lie! We like big rumps and every Tuesday night we have great big rump specials available for you to enjoy.
$17 Rump 250g
$24 Rump 400g
$32 Rump 800g
All our big rump meals are served with chips, garden salad and your choice of sauce. Now that's great value!
Conditions apply. Not available with any other offer. May not be available on public holidays. See staff for details.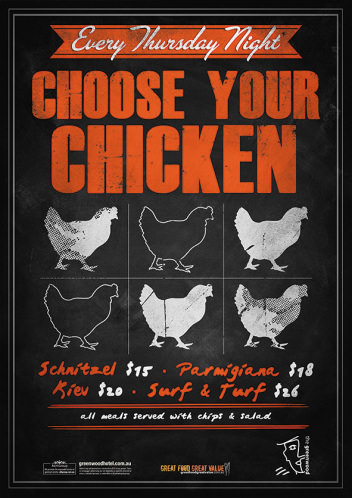 Thursdays Choose Your Chicken
We have great value chicken meals every Thursday night. All meals are served with chips and salad.
Choose from our delicious selection:
$15 Schnitzel
$18 Parmigiana
$20 Kiev
$26 Surf & Turf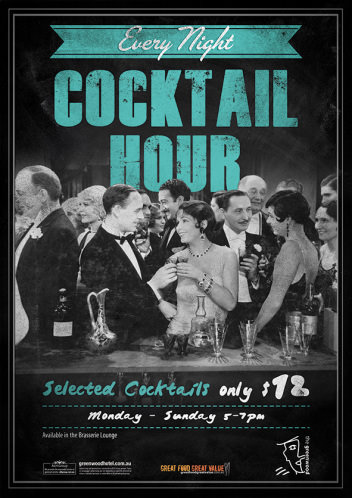 Greenwood Cocktail Hour
Enjoy selected cocktails for only $12 in the Brasserie Lounge from Monday to Sunday from 5pm - 7pm.
Every day.
Available in the brasserie lounge.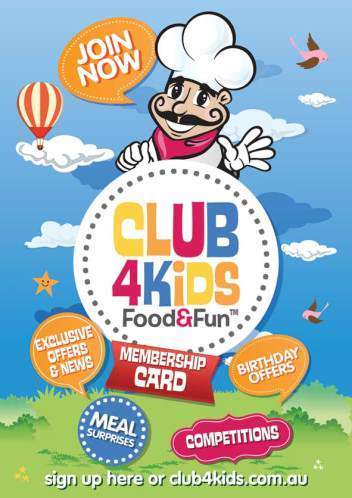 Club 4 Kids - Food and Fun
Club 4 Kids recognises that eating out can be a very special occasion for the younger family members - an opportunity to try new food and have fun in a family-friendly environment.
As an added bonus, Club 4 Kids members are treated to:
a free gift with every Kids meal purchased
the chance to enter the monthly in-venue prize draws
plus special birthday treats and exclusive news & offers as emailed from time-to-time
Join online today or complete an application form next time you're in venue.
Membership only available to kids under 12 years of age with parental/guardian consent. Membership card must be presented to staff when purchasing a Kids Meal. Not available with 'Kids Eat Free' offers. Entry to monthly prize-draw is available once 5 Kids Meals have been purchased.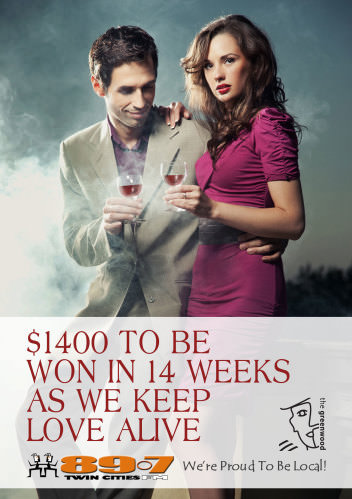 $1400 TO BE WON IN 14 WEEKS AS WE KEEP LOVE ALIVE
89.7fm's John Logan is playing cupid on Wednesdays at noon in a new partnership between the Greenwood Tavern and the community radio station.
John is giving away a $100 Greenwood Tavern dining voucher every Wednesday between February 11 and May 13.
Make Wednesdays a date with 89.7 and listen for the cue to call. The Greenwood and 89.7, keeping the flame burning bright after Valentine's Day.
18+ Only - Photo ID required
Available for lunch and dinner, every day at participating venues.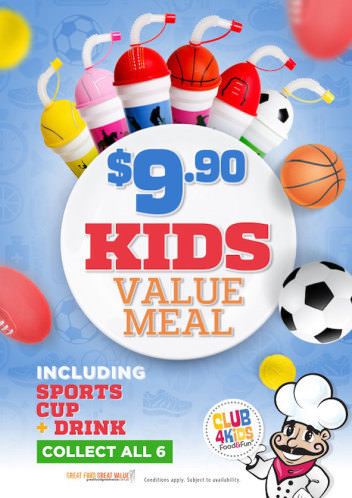 $9.90 Kids Value Meal including Sports Cup & Drink
For just $9.90 you will receive a kids meal and a sports cup filled with soft drink or juice!
So get the family together for lunch or dinner at participating locations and leave the cooking and washing up at home!
Conditions apply. Subject to availability. See staff for details.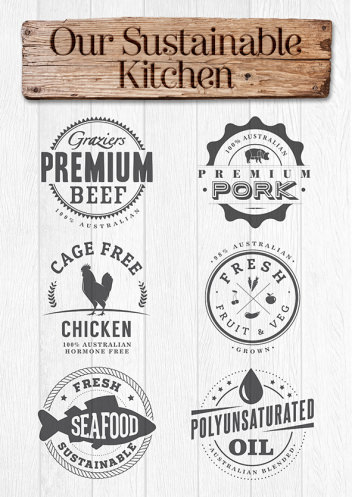 Our Sustainable Kitchen
We have made a commitment to serve:
100% Australian beef which is fresh and chilled, never frozen
100% Australian chicken, hormone and antibiotic free, fresh and from cage-free farms
100% Australian fresh seafood from sustainable fish stocks
Sow Stall free pork that is also hormone and antibiotic free
98% Australian grown fresh fruit and vegetables
We are passionate about food and how it arrives on your plate.